Laptop DELL 15.6'' Inspiron 3501 (seria 3000), FHD, Procesor Intel® Core™ i3-1005G1 (4MB Cache, up to 3.4 GHz), 4GB DDR4, 256GB SSD, GMA UHD, licenta Windows 10 Home in S Mode
DELL
2.485,00 Lei
2.375,00 Lei
La acest model Laptop cantitățile care intră în stoc în România sunt foarte limitate, sunt acceptate rezervări numai cu precomandă și cu achitare avans.
Garantăm livrarea în termenul precizat.
Momentan indisponibil
Durata de livrare: 15-20 zile
Denumire:
Laptop DELL 15.6'' Inspiron 3501 (seria 3000), FHD, Procesor Intel® Core™ i3-1005G1 (4MB Cache, up to 3.4 GHz), 4GB DDR4, 256GB SSD, GMA UHD, Licenta Windows 10 Home in S Mode
Cod producator:
DI3501I34256WHS
Garantie comerciala:
24 luni, 6 luni acumulator,
Garantie de conformitate:
24 luni
Tip Notebook
Tip garantie
Carry In Service
Platforma
Inspiron 3501
Categorie
Home
Display
Diagonala
15.6 inch
Rezolutie
1920 x 1080 pixeli
Format
Full HD
Iluminare
LED backlight
Suprafata
Anti-Glare
Rata Refresh
60 Hz
Procesor
Producator
Intel®
Nume
10th Generation Intel(R) Core(TM) i3-1005G1 Processor (4MB Cache, up to 3.4 GHz)
Familie
Intel® Core™ i3 din a zecea generatie Ice Lake
Model
i3-1005G1
Nucleu
Ice Lake
Numar nuclee
2
Numar thread-uri
4
Frecventa
1,2 GHz
Frecventa turbo max
3,4 GHz
Smart Cache
6 MB
Tehnologie
10 nm
Procesor grafic integrat
UHD
Putere maxima disipata
15 W
Memorie
Capacitate
4 GB
Tip memorie
DDR4
Frecventa
2666 MHz
Sloturi RAM
2
Slot 1
4 GB
Suport maxim
16 GB
Stocare
Solid State Disk
Da
Capacitate SSD
256 GB
Tip SSD
M.2 PCIe
Placa Video
Producator chipset
Intel
Seria
GMA
Model
UHD
Suport DirectX 12
Da
Placa video
Integrata
Unitate Optica
Unitate optica
Nu
Altele
Nu are unitate optica integrata
Sunet
Sunet
HD Audio
Boxe
2-way
Microfon incorporat
Da
Putere boxe
2x 2 W
Sistem
Stereo
Altele
Realtek ALC3204
Conectivitate
LAN
10/100 Mbps
Wireless
802.11 ac
Bluetooth
4.2
Porturi
USB 2.0
1
USB 3.0
2
RJ-45
1
HDMI
1
Audio Jack
1x Combo
Baterie
Tip
Li-ion
Numar celule
3
Putere
42 Whr
Adaptor
45 W
Dimensiuni Fizice
Dimensiuni
380 x 258 x 19.89 - 22.7 mm
Greutate
2 kg
Software
Sistem de operare
Licenta Windows 10 Home in S Mode
Securitate
Security lock
Da
Parola Bios
Da
Parola HDD
Da
Multimedia
Camera web
HD
Cititor carduri
Da
Carduri suportate
SD
Tastatura numerica
Da
Tastatura layout
English
Altele
TouchPad cu suport pentru gesturi multi atingere
Diverse
Culoare
Negru
Carcasa
Elemente finisate din plastic
Ce înseamnă licenta Windows 10 Home in S Mode?
Diferentele intre sistemele de operare: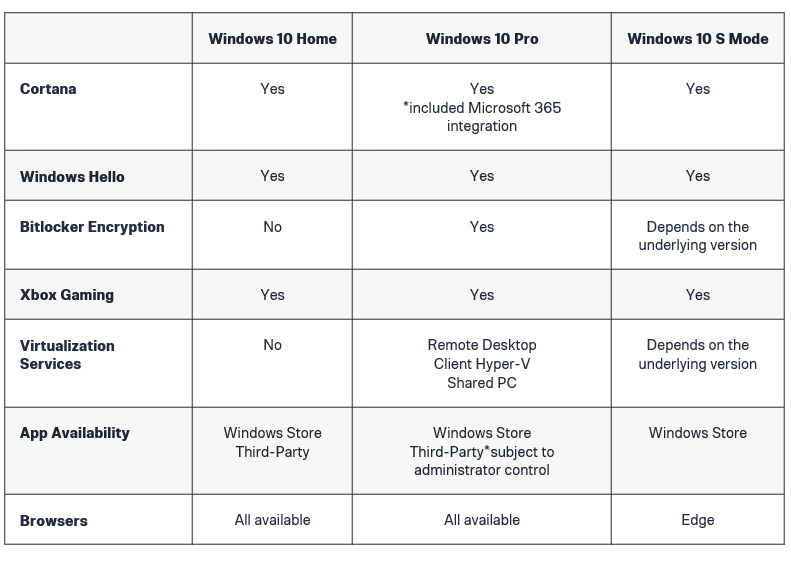 Ultimele produse vizualizate
---

Comparare
Trebuie sa mai adaugi cel putin un produs pentru a compara produse.

A fost adaugat la favorite!
A fost sters din favorite!